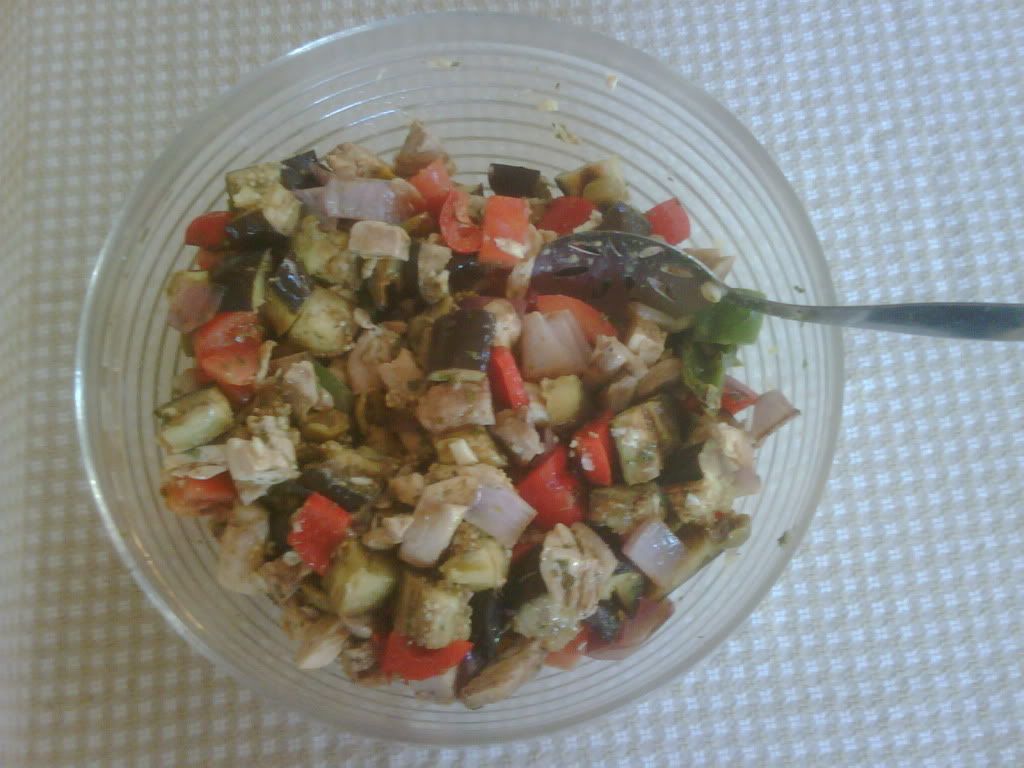 5 Chicken Breasts- skin on or not, you choose (or 8 chicken thighs)
Salt and cracked pepper to taste
1 red bell pepper, top cut off, seeds removed and quartered
1 green bell pepper, top cut off, seeds removed and quartered
1 red onion, peeled and cut into 1-inch rounds
1 medium eggplant, cut lenghthwise into planks about 1/2 inch thick
2 T. olive oil
1/3 cup lemon juice
1/3 cup extra virgin olive oil
1 large tomato, cored and diced large
1/2 cup good quality black or green olives, pitted
2 Tablespoons minced garlic
1/2 cup roughly chopped parsley, or 1 T. dried parsley flakes (hey, sometimes I get lazy)
2 Tablespoons ground cumin
**Note: You can cook all the main ingredients in this recipe on the BBQ if you've got one going or you feel the need to set something on fire. You can cook it all at once this way and you get a nice smoky-ness to the dish. Today, we're gonna cook these bad boys in a saute pan.
Sprinkle the chicken breasts with salt and pepper to taste. Cook in a lightly oiled saute pan over medium heat until cooked through, turning half-way. This should take about 12 minutes or so depending on how thick the chicken boob is.
Meanwhile, in a small bowl, combine the bell peppers, onion, eggplant, olive oil, salt and pepper to taste and toss to coat. Place the veggies in one layer, in a large saute pan over medium heat and cooked until browned and/or softened. Whether you're grilling or sauteing, this should take 3-4 minutes per side. You won't be able to fit it all in one saute pan, unless you have the mother of all saute pans... Otherwise, just cook the veggies in stages while the chicken cooks away.
When the chicken and veggies are done, remove them from the pan or grill and as soon as they are cool enough to handle, cut them into large chunks. Place in a large bowl, add all the remaining ingredients, and toss well. Season to taste with salt and pepper serve.
Serves 5 HUNGRY Paleo eaters. This makes a plethora of veggies, so be prepared to have a satisfied tummy.